Je souhaite vivre l'émotion Basque pelota initiation & Gastronomy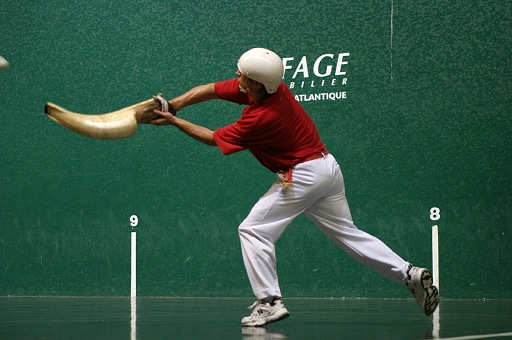 Basque pelota initiation & Gastronomy
Basque Country
Like a real Pelotari !

Imagine...
You have heard of the Basque Pelota, but do you really know all its aspects?
Rather, Trinquet with a pediment or Wall on the left, it is the opportunity to put you in the shoes of a Pelotari and to discover this sport that is part of the Basque culture.
After few explanations, it is up to you to play and you will see you very quickly take to the game! Ready to challenge your friends ? 

Half Day
From 2 people
49 €
I want to live this emotion!
The +...
Basque sports immersion
Choice of playing field
Possibility to add visits
Combine sport & gastronomy


Practical Information

> Material provided

> Program possible in the morning

> Available changing rooms
The program...
• 3:00 pm – 5 pm: Basque pelota initiation
• 5:00 pm – 5:30 pm: Winning team receives the award
• 5.30 pm – 6.30pm: Aperitif & Basque products tasting
OPTIONS
City Tour

Visit to a pelota manufacturing workshop

Possibility to play with a pro player
The details of this emotion
Traditional Basque sports are numerous. Once the opportunity to challenge one's neighbour, today it is real competitions and popular shows that are organized in Euskadi and even beyond.
Euskal pilota (Basque pelota):
Among the most well-known disciplines of the Basque peloton are the bare hand, often considered the most noble, the great Chistera or cesta Punta, considered the most spectacular.
Come and learn or challenge your friends at a tournament organized by Erronda.

After the effort, the comfort … Basque! Gastronomy is an integral part of Basque culture and is recognized for its quality but also its generosity. We invite you to continue your immersion with the tasting of local and traditional products for a convivial moment.

Basque pelota initiation: Saint-Jean-de-Luz, Biarritz, Saint Sébastien, Bayonne, Ascain …
I want to live this emotion!